College hosts BBQ for Year 13 leavers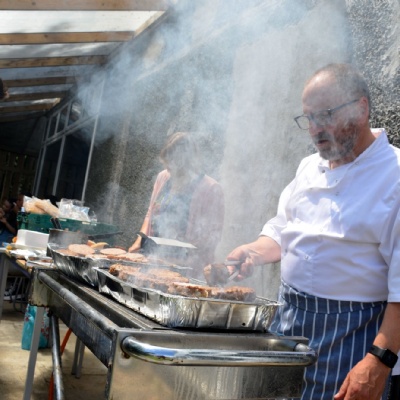 Our departing Year 13s came into school this afternoon for a well-deserved barbecue after all their hard work over the past few years, culminating in their recent A-Level and BTEC exams.
Many will be back in College again in August to receive their results and say a final 'farewell' before taking the next step on their education or employment path.
Mr Tinkler donned his chef's whites and did the honours at the BBQ in the Sixth Form garden, with Mrs Gear helping out. Mr Tinkler said: "We are extremely proud of our Year 13s – they showed tremendous resilience and a 'let's get on with it' attitude during the pandemic.
"The GCSEs never happened, so this year's exams are the most important exams they've taken since Year 6. They have coped with all of that really well."
He added: "Close to 80% of our Year 13s have got a successful university offer, which is incredible, and a lot of our students have also secured employment or apprenticeships.
"We wish all of them the very best for their futures."