Students broaden their career horizons in Work Experience Week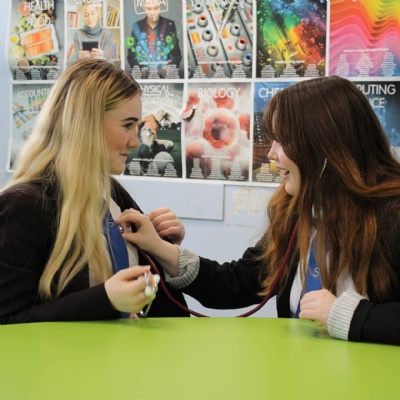 Every Year 10 student at Stoke Damerel Community College has been getting first-hand experience of the world of work, through a week of placements with local employers and a programme of careers activities running alongside at the College.
Our Work Experience Week, organised by Miss Trezona and Mrs Gannon, offers all our Year 10s a look at the diverse range of employment opportunities that are available.
The off-site work experience includes primary and nursery schools, an air conditioning company, bakery, car mechanic's, veterinary surgery, motion graphic designer and animator studio, and Princess Yachts where one of our students has been involved with sea trials on board the company's luxury yachts! Other students have had opportunities in sports coaching, IT, construction, civil engineering, hairdressing, and retail.
For those students who are not on placements, the College has hosted a programme of career-based activities and visits from employers, such as the NHS. We also welcomed a guest speaker from The Art of Brilliance, an organisation which aims to boost personal development by inspiring confidence and a positive mindset.
Miss Trezona said: "It is so important at this time for our Year 10s to get an idea of the opportunities that are available and to become aware of careers they may never have considered or even known about. It is about broadening their horizons and raising their aspirations and getting them interested in planning for their future.
"We know from experience that these events and placements create ideas and connections that lead to our students being offered opportunities when they leave College.
"Being confident and positive as they move forward is also very important, which is why we were delighted to have The Art of Brilliance with us," she added.
The College would like to thank all our Work Experience Week partners who have offered placements for our students or have taken part in the programme of activities. We owe a special 'thank you' to Next Steps South West for helping to organise the week.