Students attend unveiling of the Jack Leslie statue for Black History Month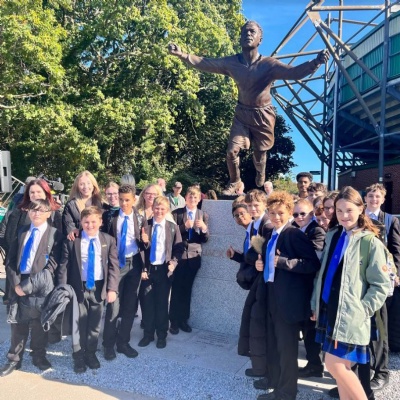 On Friday 7th October, 25 Students along with Miss Booth and Miss Honeyghan, had the enormous privilege to be invited along to the unveiling of the Jack Leslie statue at Plymouth's Home Park.
Jack Leslie was a footballer who was denied his right to play for the England Squad as he was Black. His statue was unveiled by his Grandchildren and during the event, the FA announced Jack Leslie would be given a posthumous England Cap and was recognized as the first Black England Player.
Our students were extremely well-behaved and delighted to be part of the celebrations. They met Big Scoop, a poet who performed at the event, Luke Pollard, and the Argyle Team (All of whom signed their AAT cards!)
It was a fantastic experience for our students plus they got the chance to be interviewed by BBC Radio and ITV news!
Well done to all our students for representing SDCC so well, we're so pleased we were able to be a part of this momentous occasion.