College cleans up as pioneers for city eco drive!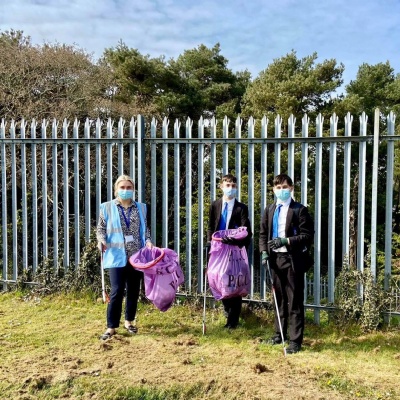 Stoke Damerel Community College is proud to link up with Clean Our Patch CIC to become the organisation's first secondary school Ambassador.
Stoke Damerel Community College is proud to link up with Clean Our Patch CIC to become the organisation's first secondary school Ambassador.
Clean Our Patch visited the College recently to provide us with litter picking equipment for students to use on site and in the local community. College governor Ms Laing attended, to present the school with our Ambassador certificate.
At first, the school's Clean Our Patch group will comprise the students in our College Eco Club who are working towards their Duke of Edinburgh Bronze Awards. They will be doing regular litter picks once or twice a week and will be able to take the kit out to do community litter picking, to add to their Bronze Award volunteering hours.
But the Eco Club is being expanded for more students to join. In May, we plan a beach clean at a local beach, and we are also committed to doing two 'totaliser' litter picks with Clean Our Patch annually. Clean Our Patch will also be running student-led workshops at the College.
The link-up came about after geography teacher Miss Evans approached Plymouth City Council to ask how the school could get involved with community work to help the local environment. The council connected us with Clean Our Patch.
Miss Evans said it was the students themselves who were keen to do something: "We taught a plastic pollution unit during lockdown and it sparked a lot of interest, especially in Years 7 and 8. That is lovely to see. They are the next generation and have the biggest potential to make the difference.
"Being a coastal city, with beaches right on our doorstep, the Eco Club seemed like a really good idea, and everything has grown from that."
Clean Our Patch was set up three years ago by El Clarke and her husband Ashton Samuels, initially in Keyham. It now has 36 groups right across Plymouth and into the South Hams.
Ms Clarke is delighted that Stoke Damerel Community College has come on board as the first secondary school. And she explained why young people's engagement with the environment is so important: "They are a catalyst for actual change. They are more likely than older generations to take positive action, rather than just talk about it.
"They have the drive, and they can also be very persuasive with their parents and carers and other family members, so the message reaches more people in the community. This is why we are so pleased that Stoke Damerel has become a School Ambassador."
She added: "One of our key messages is: don't feel daunted; don't think of climate change as a big scary thing that we cannot change. Everyone can be empowered to do something, by doing small things in our own communities. Because all those small things add up to make a big difference."
Stoke Damerel Community College is already making a difference. Miss Evans said: "We've had a great start! It's nice to be taking a lead, and hopefully more schools in the city can join. Together, we can make a really big impact."
Photographs courtesy of Clean Our Patch CIC.