Kayleigh McMillan, Psychologist, talks to Psychology A Level students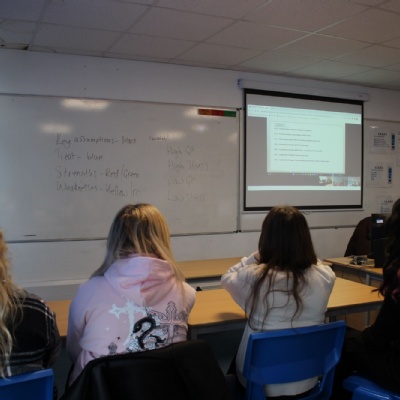 Kayleigh McMillan, Psychologist, for a second year, volunteered her time to speak to our Psychology Students.
Joining us virtually, Kayleigh talked about the different disciplines within Psychology that she has had experience in, both forensic and clinical.
Psychology is a very competitive field to get into. Kayleigh was able to share her career journey to demonstrate that very few people have a linear career path. She emphasised the value of transferable skills and how every work setting can add something to your professional career skills set.
Kayleigh also talked about career planning and thinking about different jobs in different settings and how this is so important to give breadth to your professional experience. She went onto describe the various settings that psychologist can work in.
Students gained an understanding of the professional qualifications that are required for different roles. This is also important for our students to understand that they will require further university level training to progress within the profession.
Students were able to ask her questions about her career and the qualifications she had undertaken.
We'd like to thank her for her time - the students found the session both informative and interesting giving them a broader understanding of the career roles available.