SDCC holds its annual Careers Fair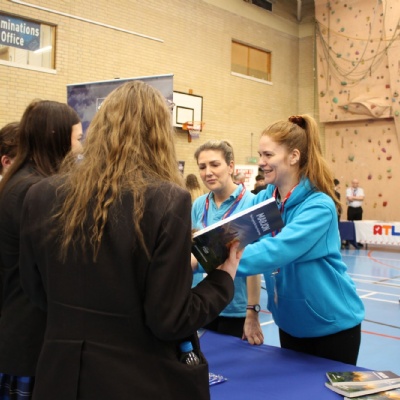 SDCC held its annual Careers Fair today. Over 22 representatives from universities, colleges, the armed forces, and local employers came to talk to our students.
Students in years 9 - 12 had the opportunity to find out about different pathways they could take post-16. From apprenticeships to level 2 and 3 qualifications at college or further education institutions, all the way up to degree level.
Students gained information about what education, employment, and training are available and spoke to employers about what they were looking for from their employees and how to apply to training providers for apprenticeship opportunities.
Our exhibitors fed back to say how well our students engaged. Mr Barnes from Focus Training said, "Your students did you proud, they did engage with the employers/training providers which was very good to see, and we would certainly be happy to support future events."
Local businesses included; The Armed Forces, BD, Babcock, GWR, Kier, NHS, Princess Yachts and Wolferstans Solicitors.
Further Education Colleges/Apprenticeship Providers included: Acacia Training, Access Creative College, Achievement Training, Arts University Plymouth, City College Plymouth, Discovery College, Dutchy College, Focus/DCET Training, Greenlight Training, Scott Medical and Healthcare College and Skills Group Training.
We would like to thank you for attending today and giving our students the opportunity to gain insight into the fantastic future pathways they could choose.