DofE Silver students complete overnight expedition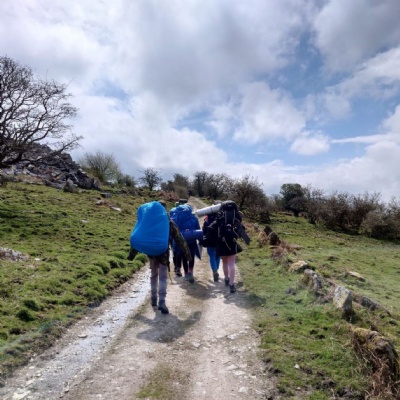 The students from across campus joined forces this week to tackle their Silver DofE Practice Expedition.
This meant working in small teams to be totally self-sufficient as they spent 3 days and 2 nights walking across Dartmoor, Yelverton, Tavistock, Princetown and Burrator.
Day one involved walking from Yelverton to Tavistock carrying everything they needed for the next three days. There were some interesting navigational choices, but they all overcame the challenge and arrived safely at camp. Camp 1 was a welcome respite as students cooked their first meals while keeping the flock of 40 rescue ducks at bay.
Day two and the students felt the aches and pains of a night under canvas but got their heads down and smashed out another long day with great views of Merrivale on route to Princetown. Camp 2 was cozy, and students enjoyed some storytelling as the fogg deepened.
The final day started quickly, striking camp in a hope to beat the rain. Spirits were high and legs soon loosened, but they learnt you can't outrun the weather. As conversations started to turn to what they were looking forward to eating and how nice the luxuries of home are the finish line was in sight. Once back at school they had a lot of admin and wet kit to deal with before they eventually found rest.
It was a hugely successful expedition with 53 students completing and already looking forward to the qualifier in the coming months. Many thanks to all the volunteer staff who made it happen.