Crafting Accurate Sentences Literacy Course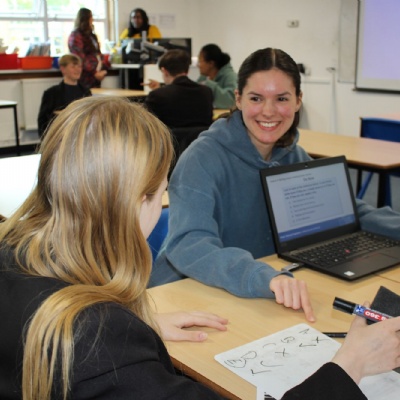 Eight competent students have been selected to work with undergraduate student ambassadors from Plymouth University who have been specially trained to deliver the course.
A number of students in year 8 have accepted the opportunity to participate in an after school literacy programme specifically focused on crafting sentences.
Crafting Accurate Sentences is provided by The University of Exeter Programme and The University of Plymouth. It was written by Lindsay Skinner, whose work is well respected in education.
The selected Stoke Damerel Community College students dedicate an hour, once a week after school, to work with their mentors, and it is clear that they are thoroughly engaged in every session.
Byron, said, "The course is helping me to create better sentences through the techniques and ideas that we discuss and learns in each session."
Unfortunately, the course only lasts for nine weeks and is due to finish at the end of June. In the meantime, it is evident that these sessions are enjoyed by all attending and will have numerous benefits in the long run for our aspiring writers.