No Label No Limits: Celebration Day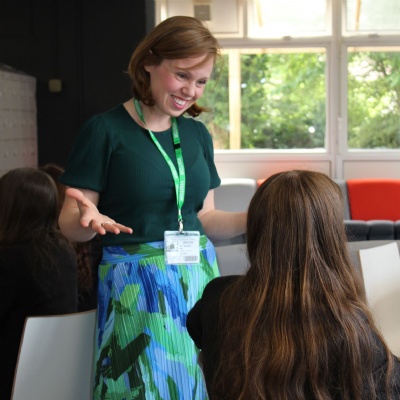 A group of 30 students from SDCC and SMHC recently completed the No Label No Limits personal development program, marking the end of a year-long journey of self-discovery and empowerment.
The aim of the program, facilitated by Emily McGuirk and Emma Falcon from Small Steps Big Vision and commissioned by the Heart of the South West Career Hub, was to inspire and empower young ladies in year 9 to remove perceived barriers, set goals, and reach their full potential.
Throughout the academic year, the students participated in workshops covering various topics designed to foster self-worth, confidence, well-being, aspiration, emotional management, resilience, kindness, goal setting, and personal branding. These sessions provided a holistic approach to personal development, equipping the students with the tools and mindset necessary to overcome challenges and excel in their chosen paths.
An integral part of the program was the inclusion of inspirational female business leaders, who shared their career journeys with the students. This gave the young women an opportunity to meet successful professionals and learn from their experiences. The underlying message conveyed by these accomplished individuals was the importance of resilience in the face of setbacks. They instilled in the students the belief that setbacks are inevitable but can be overcome with determination and perseverance.
The students had the privilege of meeting several influential figures in person, such as architect, Glayne Price, Lucy Donald, a creative arts professional at the Theatre Royal; and Lisa Tomkins from the MET Office. In the final session, they were joined by Elenor Benton, a quantity surveyor working for Babcock. These encounters with successful women from diverse fields exposed the students to a range of career possibilities and broadened their horizons.
In addition to face-to-face interactions, the students also watched recorded video messages from inspiring figures. Rosie Nixon, the Editor-in-Chief of HELLO! Magazine and an accomplished author, shared her insights and motivation with the students. Small Steps Big Vision and the Heart of the South West Career Hub provided each girl with a book from Rosie, further encouraging their personal growth.
To enhance the students' experience, they were treated to a video prepared by one of the UK's renowned boxing Master of Ceremonies, affectionately known as 'The Queen of Queensbury.' Her message emphasised the power of perseverance and determination, drawing parallels between the discipline required in boxing and achieving success in life.
During the final session, the students engaged in self-reflection, considering how they present themselves, how their friends perceive them, their passions, instances of commitment and facing challenges, and the lessons learned from these experiences. Armed with this newfound self-awareness, they prepared personal pitches and presented themselves to the visiting professionals, who provided invaluable feedback. This exercise not only boosted their confidence but also allowed them to refine their communication and presentation skills.
As a testament to their dedication and growth, the students were rewarded with certificates, and the school organised an afternoon cream tea as a celebration of their accomplishments. Sarah Trezona, the school's Careers Manager, highlighted the importance of meeting inspiring role models and encouraging students to think beyond their immediate school careers. By cultivating a positive mindset, she emphasised, one can overcome any obstacles and achieve their dreams.
In the words of Billy Jean King, an iconic figure in women's tennis, "And if you can see it, you can be it." The No Label No Limits program embodied this sentiment, empowering young women to break free from societal labels and limitations and embrace their potential to create a limitless future for themselves. By nurturing their self-belief, resilience, and aspirations, this program has set these students on a path towards success, making them true agents of change in their own lives and the world around them.