Simeon impresses at work experience at the National Marine Aquarium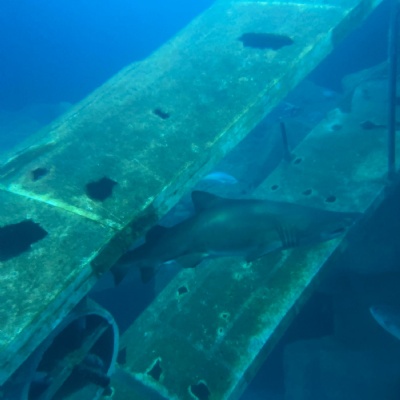 One of our brilliant Year 10 students, Simeon recently completed a week's work experience at the National Marine Aquarium.
Here's his story:
"I had the best time doing my work experience at the National Marine Aquarium. The first day, I had an induction, and spent time walking around the different areas, getting my bearings, and learning lots of new facts about the marine life.
"The second day, I was paired with a member of staff and given a timetable, of duties I would do during the day. I enjoyed standing by each tank and interacting with the public. They would ask me questions like, "What marine life is in the tanks?" or "How deep are the tanks?" At first, I was nervous but after a little while I felt confident answering questions based on my existing knowledge and also what I had learnt already.
"On the third day, I had the opportunity to go behind the scenes. I went on top of the shark tank and fed the turtles. It was amazing up there, getting to see all the sharks and marine life up close. The Zebra shark, Zeus, swam at the top of the tank, so that was really cool to see!
"I also got to go on top of the Eddystone tank where I was up close with rays and learn more about the different species. Did you know a species called a Rock Bass or Wreck Fish can swallow a Catshark whole!
"On my last day, I did a talk on the Eddy tank in front of members of the public. I was a little nervous beforehand but because of all the amazing information I had learnt and hands-on experience, I felt confident in what I was presenting. I felt so happy once I'd finished – it was a great opportunity, and I'm so pleased I did it.
"The whole experience was absolutely amazing! I learned so many skills from public speaking to communication skills and how to interact with the public, not to mention tons of information on marine life.
"I'd really love to volunteer at the aquarium again and hopefully, that may lead to a job in the future! I've always had an interest in Marine Biology and sea animals and after this experience, I know I definitely want to go into this as a career."
Well done Simeon!