Holocaust Survivor speaks with Students in Emotional Zoom Conference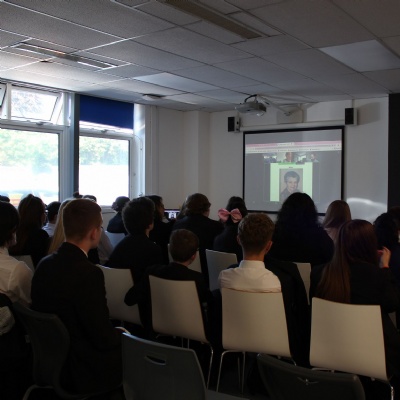 On Tuesday, 20th June, 50 Year 10 and Sixth Form students were granted a remarkable opportunity that they will never forget.
They had the privilege of attending a Zoom Conference with Annick Lever, a Holocaust survivor. Annick's story is one of unimaginable hardship, resilience, and the enduring power of the human spirit.
Annick was born in Nazi-occupied France during the tumultuous years of the Second World War. Tragically, when she was just a few months old, her family was forcibly taken to Auschwitz, the notorious concentration camp. The journey itself was marked by unspeakable cruelty, as Annick's mother lost her life. Upon their arrival at Auschwitz, her grandparents and aunt met a similar fate, falling victim to the atrocities of the Holocaust.
During the emotionally charged Zoom call, Annick bravely shared her personal experiences and the profound impact it had on her life. She recounted the challenges she faced growing up, the loss of her loved ones, and the haunting memories that have stayed with her throughout the years. Her story served as a stark reminder of the horrors that unfolded during the Holocaust, leaving an indelible mark on history.
Our students had the unique opportunity to engage with Annick, asking her questions that delved into the depths of her experiences. Their queries were insightful, thought-provoking, and demonstrated a level of maturity that exceeded their young years. Through their inquisitive nature, they showcased empathy and a genuine desire to learn from Annick's wisdom and resilience.
Charlie, a Year 10 student, described the experience as an emotional rollercoaster, yet a profoundly inspiring one. He said, "The depth of Annick's story touched the hearts of everyone watching, leaving a lasting impact on our outlooks and perspectives." =
Ciarra, also a Year 10 student, expressed gratitude for the opportunity to listen to Annick's story. She said, "The experience was an eye-opener, opening her eyes to the immense suffering endured by countless individuals during the Holocaust." Ciarra's emotional response, shedding tears as Annick spoke, attested to the profound effect the conference had on her.
By connecting with survivors like Annick Lever, our students were able to gain a deeper understanding of the past and the importance of preserving and learning from history. Annick's courage and resilience inspired them to reflect on their own lives and to cherish the freedoms and privileges they enjoy today.
We extend our heartfelt gratitude to Annick Lever for sharing her story with us and commend our students for their maturity, compassion, and thoughtful engagement throughout the conference. May Annick's powerful narrative continue to inspire generations to come and serve as a reminder of the importance of combating hatred, prejudice, and intolerance in all its forms.