Promising Performances and Victories for Cricket Teams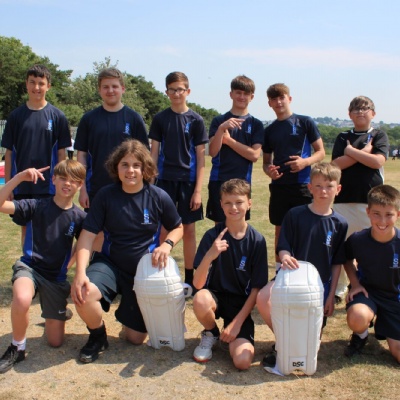 Congratulations to both the Year 9 Hardball Cricket Team and the Year 7 and 8 Softball Team who played matches this week.
The cricket team recently faced a formidable opponent in Tavistock but showcased their ongoing improvement and determination in hardball cricket. Although luck was not on their side, the team demonstrated their potential through some exceptional performances.
Dawid, stood out with his remarkable display, taking an impressive 4 wickets. Additionally, Jake showcased his talent with some brilliant shots, ultimately scoring a commendable 25 runs.
What sets this team apart is their unwavering team spirit and support for one another. They displayed great camaraderie, uplifting each other throughout the entirety of the match. This collective effort and positive attitude are indicative of their strong bond and commitment to success.
Meanwhile, the year 7 and 8 students participated in a softball tournament held at DHSB. Despite it being their first year playing cricket for many members of the team, they achieved remarkable success by securing victories in 3 out of their 5 games. The batting and bowling performances were particularly outstanding, considering their relative inexperience.
A special mention must be made for Rio, whose exceptional skills caught the attention of both opposing schools and teachers. Rio's impressive knock of 20 not out in just two overs left a lasting impression, showcasing his talent and potential as a cricketer.
The successes of both the hardball cricket team and the year 7 and 8 softball team are testament to their hard work, dedication, and continuous improvement. These achievements demonstrate the positive impact of training, teamwork, and a passion for the sport. The future looks promising for these budding cricketers, and their continued efforts will undoubtedly lead to even greater accomplishments.
Congratulations to all the players for their exceptional performances and their commitment to representing the school. As they continue their cricketing journey, we eagerly anticipate their future endeavors and celebrate the victories they have achieved thus far.