Otis Triumphs as Year 7 Bedrock Spelling Bee Champion for 2022-23!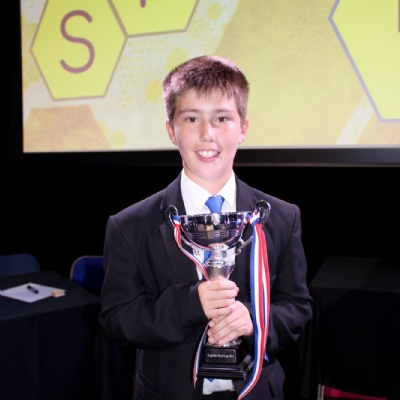 In a remarkable display of spelling prowess, Otis, a Year 7 student, emerged as the champion of the highly anticipated Spelling Bee competition.
All the students showcased their exceptional spelling skills. The tension was palpable as Otis spelt his way to victory, correctly spelling the word 'catastrophe' to claim the coveted Spelling Bee trophy. As a token of his accomplishment, she was also presented with a beautifully engraved trophie.
The Spelling Bee final took place in the main hall, in front of an audience of Year 7 English students. Prior to the final showdown, each Year 7 English class held their own intense heats, with the winners progressing to compete for the ultimate title.
The responsibility of challenging the students with words fell to Miss Unsworth, who posed the carefully selected vocabulary to the participants. The level of spelling demonstrated by the students was truly remarkable, leading to heated competition and prolonging the duration of the heats.
Ms. Ekpoffiong, one of the organisers, expressed her admiration, stating, "The standard of spelling was very high – the heats took quite a long time because the students kept getting the words right! Well done to all the students who took part, and to Coral for being our brilliant winner."
The moment of triumph arrived when Mrs. Henderson, the Head of English, awarded certificates to the three finalists. With great pride, she presented the Spelling Bee Trophy and the engraved trophy to Otis, recognising his remarkable achievement.
Ms. Ekpoffiong reflected on the event, describing it as "extremely enjoyable" and highlighting its significance in bringing together Year 7 English students at the end of the school year to celebrate the vocabulary they have acquired.
The Spelling Bee competition not only showcased the students' remarkable spelling abilities but also emphasised the importance of language skills and vocabulary development. Through their dedication and hard work, the participants demonstrated a passion for language and an eagerness to expand their linguistic repertoire.
Well done to all students involved, we so very proud of you all.