Hello Summer Showcase 2023: A Spectacular Display of Talent and Creativity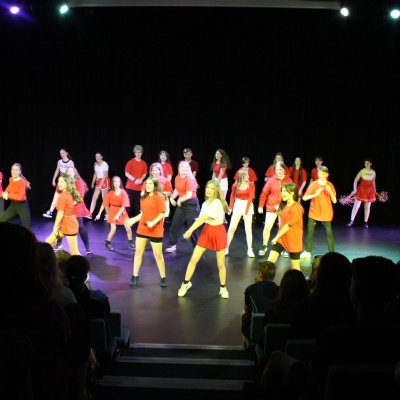 The stage was set, the lights were shining, and the air was filled with anticipation as our premier Hello Summer Showcase 2023 unfolded, leaving the audience in awe of the remarkable talent displayed by our exceptional students.
This grand event brought together approximately 180 guests to witness an unforgettable evening of music, theatre, dance, and much more.
The festivities kicked off with an electrifying "Music in the Street" segment, featuring captivating performances by our very own Year 10 Band. The stage pulsated with energy as the band delivered mesmerising melodies, showcasing their musical prowess and passion. The crowd was treated to an array of genres, from rock to pop, with the band leaving an indelible mark on everyone in attendance.
The excitement continued to build as our Rock Band took the stage, delivering a performance that reverberated through the venue. Their powerful riffs and dynamic stage presence enthralled the audience, leaving no doubt about the immense talent present within our school.
The evening further unfolded with breathtaking duets by Phoebe and Mollie, who harmonised beautifully, captivating hearts with their soulful voices. The audience was transported into a world of emotion as their melodies intertwined, leaving a lasting impression on all fortunate enough to witness their incredible performance.
Solo performances by Amelia and Isaac added an extra touch of magic to the showcase. Their individual artistry and captivating stage presence brought their chosen pieces to life.
Transitioning into the Performance Theatre, the evening took on a new dimension, as the audience was treated to whimsical and engaging performances. Revolting Rhyme style Pantomimes of Cinderella and The Three Little Pigs showcased the creativity and imagination of our students, infusing classic tales with a modern twist that delighted young and old alike.
Contemporary dance, skilfully choreographed by Maddison, transported the audience into a world of grace and fluidity. The dancers' movements seamlessly blended together, conveying emotions and telling stories through their elegant and powerful performances.
Short sketches by our acting students brought laughter and mirth to the stage, showcasing their comedic timing and acting prowess. The audience was thoroughly entertained by their wit and talent, as they brought characters to life and evoked laughter with every line.
Levi's portrayal of Michael Jackson was nothing short of extraordinary, as he mesmerised the crowd with his flawless dance moves and captivating stage presence, paying tribute to a musical icon.
The evening was further elevated by enchanting musical theatre songs from beloved productions such as Wicked, BeetleJuice, High School Musical, and Matilda. The audience was transported into the world of these musicals, with the talented performers delivering show-stopping numbers.
Guiding us through this journey were our Masters of Ceremony, Josh and Pope, who skilfully introduced each act with charm and enthusiasm. Their dynamic presence added an extra layer of excitement to the evening, ensuring a seamless flow and keeping the audience engaged throughout.
The premier Hello Summer Showcase 2023 was an unequivocal success, a testament to the talent, dedication, and hard work of our exceptional students. Their performances were nothing short of breathtaking, leaving a mark on the hearts of all who were fortunate enough to witness their brilliance.
As we bid farewell to this year's showcase, we eagerly look forward to the next, anticipating the new heights our talented students will reach and the unforgettable experiences that await us. The Hello Summer Showcase has become a cherished tradition, a celebration of the arts and the immense talent within our school community. Until then, we will carry the memories of this remarkable evening in our hearts, forever inspired by the creativity, passion, and dedication displayed by our extraordinary students.