Fun-Packed Climate Change Event led by the National Marine Aquarium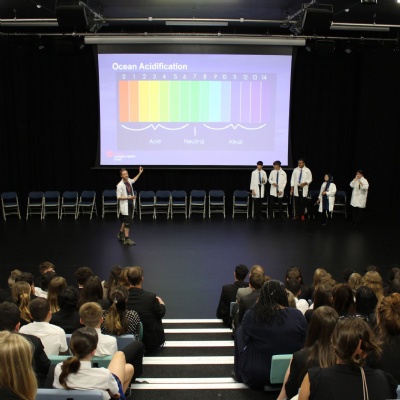 Excitement filled the air as the entire Year 8 cohort gathered for a special event– a captivating event on climate change, led by the National Marine Aquarium.
The event was unlike any other, with students actively participating in the show's activities. Those who answered questions correctly were rewarded with the chance to step onto the stage and take part in some captivating challenges. Donned in lab coats, they embraced the opportunity to learn and have fun simultaneously. The challenges aimed to spark reflections on climate change, its consequences, and the choices we face in safeguarding our planet.
Adding to the excitement, Mr. Fleetwood made an unforgettable appearance as a dancing hot dog, bringing laughter to the audience while delivering a profound message. Amidst the smiles, the dancing hot dog served as a reminder of the pressing global issues we must address to combat global warming.
As the event concluded, students shared their feedback, reflecting on the show's impact. Finley beamed, "10 out of 10. I loved the sausage dance, it got me thinking about climate change." Mark praised the event for being "excellent, really entertaining, and interactive," highlighting its engaging nature. Milan commended the show as "a different type of talk that was very educational but also really entertaining."
The event succeeded in achieving its goals of raising awareness and stimulating discussions about climate change. By fostering an interactive environment, students actively engaged with the topic and realised the importance of their individual choices in tackling this global challenge.