Gareth's Triumph: From Cancer Survivor to IRONMAN 70.3 Finisher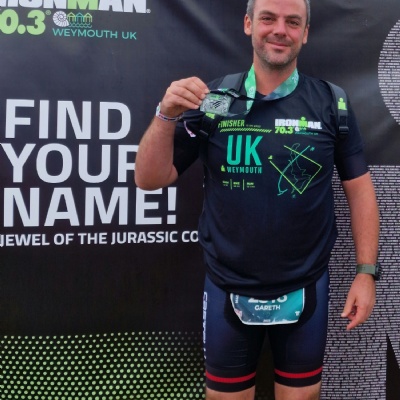 Mr O'Brien's journey from a cancer diagnosis to an IRONMAN finish line is a testament to his indomitable spirit and unwavering determination.
Fifteen years ago, Gareth faced a life-altering diagnosis: Stage 3 Cancer. His journey through surgeries, chemotherapy, and radiotherapy was nothing short of gruelling, leaving him out of breath from just walking to the next lamppost. But for Gareth, cancer was not the end—it was a new beginning. Fast forward to today, and he's not only overcome his health battle but has set out on a remarkable journey to inspire and uplift others who have faced similar challenges. Gareth recently completed the IRONMAN 70.3 Weymouth, a monumental achievement that showcases the incredible power of the human spirit.
For Gareth, cancer was a turning point, not an endpoint. Instead of dwelling on the past, he chose to embrace a brighter future filled with possibilities. With his remarkable resilience and newfound zest for life, he decided to mark this significant year in his journey by setting a challenging goal—one that wasn't just about charity but also about inspiring others on their cancer journeys.
Gareth's chosen challenge was no small feat—the IRONMAN 70.3 Weymouth. This prestigious event has been enjoyed by thousands of athletes over the years, and it's known for its difficult yet breathtaking course.
Gareth said, "My dedication to training was unwavering as I embarked on months of rigorous preparation for my athletic endeavors. I could be found in the school gym at 7am, honing my physical prowess and endurance. Weekends were reserved for longer rides and runs, where I pushed my limits to new heights. This commitment paid off when I successfully tackled challenging warm-up events, including the 70-mile Dartmoor Classic ride across the picturesque yet hilly Dartmoor in June. In May, I achieved another significant milestone by completing the demanding Plymouth Half Marathon. These achievements not only tested my physical abilities but also reinforced the power of perseverance and disciplined training.
"The conditions during the IRONMAN challenge were nothing short of challenging, with thunder and lightning. These adverse conditions served as a stark reminder of the unpredictable nature of outdoor sports and the importance of safety in all athletic endeavors."
The IRONMAN challenge begins with a 1.2-mile swim in the pristine waters of Weymouth Bay. Swimmers not only battle the distance but also the unpredictable currents of the bay.
Next comes a challenging 56-mile bike ride through the picturesque landscapes of Dorset. Athletes pedal through rolling hills, lush countryside, and coastal roads, taking in the natural beauty of the region.
Finally, the competitors embark on a fast-paced 13.1-mile run along the seafront. The route takes them past the bustling harbour, vibrant bars, and the award-winning golden beach, providing both a physical and scenic test of endurance.
Gareth's completion of the IRONMAN 70.3 Weymouth is a remarkable achievement by any measure. It's a testament to his unwavering commitment to his own health and well-being, as well as his desire to inspire others who have navigated the challenges of cancer.
Gareth's remarkable achievement at the IRONMAN 70.3 Weymouth is not just a testament to his strength but an inspiration to all those who face adversity, proving that with resilience, determination and perseverance, one can overcome any obstacle and achieve the seemingly impossible.
Well done Gaz!