Dr. Jonathan Clarke Inspires Students with Insights into Chiropractic and Health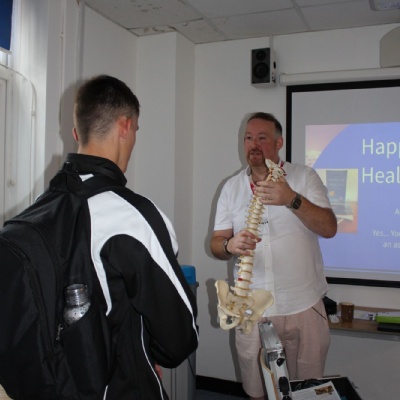 On Wednesday, we had the pleasure of hosting Dr. Jonathan Clarke at our school, and his visit left our students thoroughly inspired.
Dr. Clarke is a multi-talented individual, boasting his own successful Chiropractic Clinic, a notable presence in the world of published authors, and a founding member of the esteemed Scottish College of Chiropractic. His enthusiasm was contagious as he engaged our students in an interactive and enlightening session. The fortunate recipients of this session included our 6th form students, who are passionately pursuing careers in the medical field, as well as a Year 11 health and social care class.
During his visit, students delved into the rich history of Chiropractic, tracing its origins back to 1895 when Daniel David Palmer, a resident of Iowa, conducted the very first chiropractic adjustment on a partially deaf janitor. Remarkably, the janitor's hearing was restored following this adjustment, marking a transformative moment in the history of this practice. Over time, Chiropractic has evolved into a complementary therapy, and the term itself was coined by Reverend Samuel H. Weed, who ingeniously blended the Greek words "cheiro" (hand) and "praktikos" (doing or action).
Dr. Clarke eloquently conveyed the essence of Chiropractic, emphasizing its mission to restore balance within the human body. Chiropractors are adept at manipulating joints, bones, and soft tissues to alleviate pain and prevent the recurrence of injuries. They employ a diverse range of techniques, including massage and manipulation, catering to individuals with sports injuries, postural issues, or joint and muscle discomfort.
Beyond the technical skills, Chiropractors must possess a patient and composed demeanor, especially when confronted with stressful situations. Clients seeking chiropractic care often grapple with pain, and it is imperative for practitioners to exude empathy, sensitivity, and understanding in their interactions.
Effective communication skills are paramount, enabling Chiropractors to engage with clients and discern the nature of their symptoms, a vital step in determining the suitability of treatment. A comprehensive understanding of the human body's intricate workings is indispensable, as every facet of our physiology is regulated by the central nervous system.
Chiropractors employ thorough assessments, which may include diagnostic imaging like X-rays, to craft tailored treatment programs. Collaboration within a team is typically the norm, demanding the ability to work harmoniously with colleagues.
Dr. Clarke's clientele spans a wide age spectrum, from newborns who have experienced birth trauma to centenarians at 101 years old. He finds the most gratifying aspect of his profession in providing relief to individuals who enter his clinic suffering from chronic pain, only to leave pain-free and rejuvenated.
We extend our heartfelt gratitude to Dr. Clarke for generously sharing his expertise and time with our students. As a token of his kindness, each student who attended his session received a copy of his book, 'The Happiness of Health.' Dr. Clarke's visit was a reminder of how passion, dedication, and expertise can inspire the next generation, setting them on a path toward making a positive impact on the world.