Year 7 Boys Rugby Team Shines in Tournament Debut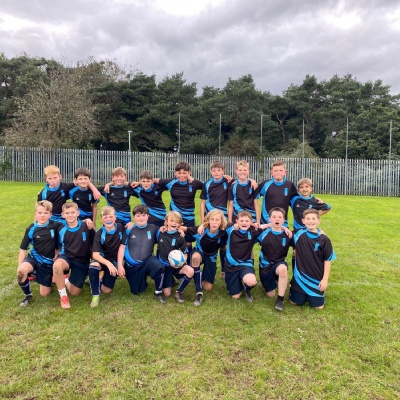 In a remarkable display of teamwork, sportsmanship, and determination, our Year 7 Boys Rugby Team recently made their mark in their debut appearance at a central venue tournament.
Despite many of the students playing their very first games of rugby, they left a lasting impression that speaks volumes about their potential.
The tournament was a test of skill, athleticism, and resilience, and our boys rose to the occasion with unwavering enthusiasm. They displayed a fantastic attitude on the field, demonstrating a keen desire to learn and improve their understanding of the game. Throughout the tournament, they exhibited commendable sportsmanship and dedication, and their never-ending commitment to the sport was evident to all who watched them play.
Our young rugby stars achieved impressive results during the tournament. In a display of their growing prowess, they secured comfortable victories against All Saints, showcasing their evolving skills and teamwork. These early successes are a testament to their hard work and dedication during practice.
While victories are undoubtedly sweet, the true character of a team is often revealed in the face of adversity. Our Year 7 Boys Rugby Team showed immense resilience in two closely contested matches against formidable opponents. Despite facing narrow losses against DHSB and Eggbuckland, the boys fought well, leaving it all on the field and earning the respect of all in attendance.
This tournament marked the beginning of what promises to be an exciting journey for these young rugby enthusiasts. Their passion, determination, and willingness to learn are the building blocks of future success. As they continue to grow as athletes and teammates, we can look forward to more outstanding performances and achievements on the rugby field.