Our new Poet Laureate is revealed!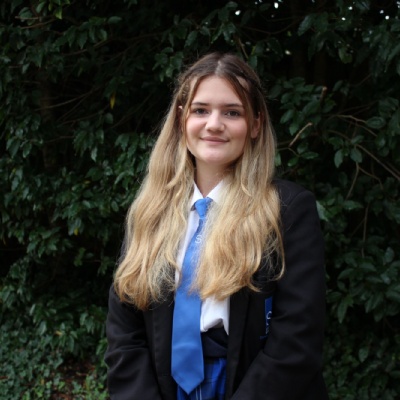 Stoke Damerel Community College is buzzing with excitement as Marie, a talented student, has been crowned the new Poet Laureate in light of National Poetry Day.
The announcement comes after a rigorous competition that saw an impressive array of original and exceptional entries from students of all year groups.
The competition was notable not only for its quality but also for the enthusiastic participation of students across the year groups. Amongst the finalists, a standout was a year 7 student whose poem titled 'Ham Woods' captured the hearts of many staff members and students, resonating deeply with the local area.
The final round of the competition was intense, with three outstanding poets vying for the prestigious title. Each poem showcased careful craftsmanship and insightful perspectives, highlighting the students' passion for exploring the theme of refuge and their personal connections to it.
What was equally heart-warming was the active engagement of the student body in the voting process. Students took their civic duty seriously, discussing the merits of each poem maturely and sensibly. Having already had the opportunity to read the poems during their morning tutor period, students flocked to the voting booths in break A and B, as soon as the bell rang, resulting in an impressive turnout.
Marie, our new Poet Laureate said, "I am so shocked that my poem has won. I am delighted though!
"I spent a lot of time working on the poem but I wasn't going to submit it, it was actually my English teacher that submitted it for me. I can't believe it was shortlisted to the final three and then won on votes!
"We all have our own problems, but it's good to talk about them and share our experiences. Expressing this through poetry and creative forms really helps when you don't want to speak about things directly. I wrote the poem from the heart and from real experiences, both my own and my close friend. I am so happy that people have resonated with my poem and that I have been chosen to be the new Poet Laureate."
Last year's Poet Laureate, Sophie, who enjoyed her prestigious position immensely, now passes the metaphorical crown to Marie. The college community is confident that Marie will carry the torch brilliantly in the 2023/2024 year, continuing the tradition of excellence established by her predecessor.
Marie's appointment as Poet Laureate has brought a renewed sense of pride and appreciation for literary talent within Stoke Damerel Community College. Her words have already left an indelible mark, and students and staff alike eagerly anticipate the poetry and inspiration she will bring throughout her term.
The entire college community joins together in congratulating Marie on her well-deserved achievement, and we look forward to the beautiful verses she will create in the year ahead.
Marie's winning poem: