Exploring the Gaming Universe: Students Attend EGX Eurogamer Expo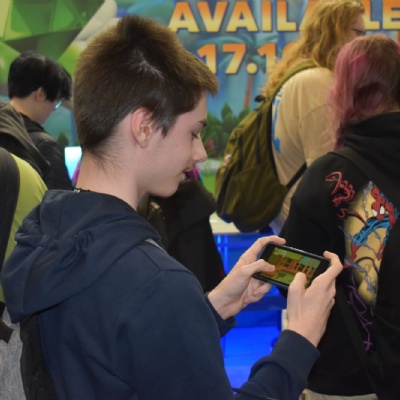 Students embarked on an exhilarating journey into the heart of the gaming world as they attended the EGX Eurogamer Expo.
This extraordinary trip offered students the golden opportunity to immerse themselves in the latest playable computer games, alongside a myriad of captivating events. The day was not only packed with exciting gaming experiences but also invaluable insights into potential careers in the gaming industry.
The day began early, with students and staff departing their college at the crack of dawn, setting out for the bustling metropolis of London. Anticipation buzzed in the air as they knew they were about to embark on a day filled with adventure and exploration.
Upon arrival at the EGX Eurogamer Expo, students were given the freedom to explore the event in their chosen friendship groups. The event was filled with gaming delights, featuring playable games, exciting exhibitions, informative developer sessions, and the Games Industry Academy Zone, where students could delve deeper into the myriad career opportunities within the gaming industry.
The students were treated to a feast of experiences, including the chance to see the latest exhibitions, attend talks, participate in demos, and engage in workshops. Special guests from TikTok and renowned gamers added to the allure of the event. There were numerous themed zones, each with its unique flavour – the rezzed zone, the retro zone, the arcade zone, and the Dicebreaker zone were just a few of the highlights.
What set this experience apart was the opportunity for students to receive invaluable one-on-one career advice from seasoned professionals within the gaming industry. Portfolio reviews provided insights into potential paths in this rapidly growing field, leaving students with a clearer vision of their future in the gaming universe.
For those seeking more competition, there were esports tournaments where students could join forces with their friends and compete against other players. Exciting prizes were up for grabs, making it a thrilling experience for those who aimed for gaming glory.
Throughout the day, the students represented their school impeccably, and they returned with a wealth of inspiration and ideas for their future careers. The Expo not only broadened their horizons but also left them with a treasure trove of gaming memorabilia and goodies to remember the day.
In the end, it was a truly incredible day where every second was used to make the most of the sprawling event. The students returned home, filled with excitement, though undoubtedly exhausted from the action-packed day they had experienced. The EGX Eurogamer Expo was more than just a field trip; it was a portal to a world of endless possibilities in the gaming industry and a source of lasting memories for the students who attended.