Articulation Event Inspires A Level Art Students in Plymouth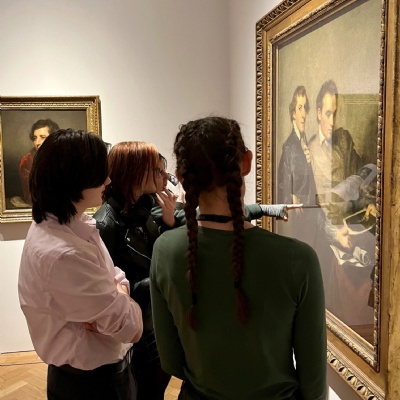 Year 12 and 13 A Level Art students embarked on an inspiring journey to the Box Museum in Plymouth to participate in the Articulation event, organised by the National Gallery, London.
This unique experience allowed the students to immerse themselves in the world of art, sparking creativity, and enhancing their critical thinking skills.
The day began with the students exploring the captivating artwork on display, providing them with a rich tapestry of artistic inspiration. However, the highlight of the event was the Articulation program, which challenged these budding artists to research and present their thoughts and conclusions on various art-related topics.
Articulation, at its core, aims to empower young people to confidently express their opinions and thoughts about art. It's a platform for honing public speaking skills and delving into the depths of complex subjects like culture, race, and social imbalance, all within the context of the art world.
The A Level Art students eagerly embraced this challenge, and their presentations left a lasting impression on the event organisers. They were commended for their well-researched arguments and their professional and articulate delivery. This recognition is a testament to their dedication and passion for the subject.
The knowledge and insights gained from the articulation event will undoubtedly prove invaluable as these students continue to explore, investigate, and debate various artists and themes within their A Level Art coursework. The event has not only expanded their artistic horizons but has also equipped them with the skills necessary to excel in the world of art and beyond.