Cadets Excel in Skill-building Opportunities Over Half Term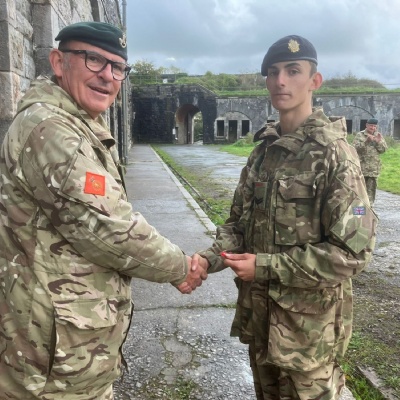 During the recent half term break, the senior cadets at SDCC seized the opportunity to hone their skills and engage in valuable training offered by the Devon Army Cadets.
The enthusiasm and dedication of these young individuals were evident as they undertook a range of courses, further enhancing their personal development and the services they provide to the community.
Among the accomplished cadets, Alex, Joe, Honey, and Chelsea, successfully completed a comprehensive First Aid At Work course. This invaluable training equips them with the skills and knowledge to respond effectively to emergencies, a skill that extends beyond their cadet duties and will undoubtedly benefit them in various aspects of life.
Georgia, another dedicated cadet, achieved a significant milestone by completing the Gold Duke of Edinburgh's Award Expedition section on the rugged terrain of Dartmoor. This section of the prestigious award program challenges participants to demonstrate their outdoor proficiency, leadership, and resilience. Georgia's accomplishment showcases her commitment to personal growth and her ability to thrive in demanding outdoor conditions.
Joe, not content with just one accomplishment, tackled a week-long fieldcraft and shooting package to prepare for his Gold Duke of Edinburgh's award residential section. This intensive training demonstrates Joe's dedication to the program and his unwavering commitment to mastering a diverse set of skills.
Although we don't have photos of the First Aid course, the attached images capture two memorable moments from this enriching half-term. One shows Georgia, her face beaming with pride, standing amidst the wild and rugged beauty of Dartmoor - a testament to her determination and love for adventure. The other image features Joe, receiving his well-deserved 3-star badge from Colonel Ian Gilbert, Deputy Commandant of the Devon ACF.
The achievements of these cadets reflect the dedication, discipline, and motivation that characterise the Cadet Forces. We are immensely proud of their accomplishments and look forward to witnessing their continued growth and contributions to both their local communities and the wider world. These young individuals are not just the future; they are also the embodiment of the ideals and values that our society holds dear.
Congratulations to Alex, Joe, Honey, Chelsea, Georgia, and Joe on their impressive achievements during the half-term break. Your commitment to self-improvement and service is truly commendable and inspiring.