Year 9 Sports Leaders Excel in Primary Inclusion Football Event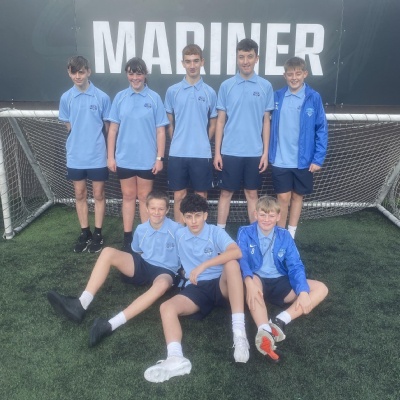 In the spirit of community and leadership, eight exceptional Year 9 sports leaders from the SDCC Leadership Academy recently lent their support to a primary inclusion football event held at Harpers Football Centre.
The event served as a testament to the remarkable growth and development of these young leaders who continue to impress and inspire us all.
Throughout the day, these sports leaders exhibited unwavering dedication, high levels of confidence, and a deep sense of empathy as they facilitated and participated in the event. They embraced their roles with enthusiasm, demonstrating the kind of leadership that makes us all proud.
Their commitment to ensuring that the primary inclusion football event ran smoothly, fostering an environment of inclusivity and encouragement, was truly commendable. They extended their support to all participants, regardless of their abilities, and this reflected the values and ethos of the SDCC Leadership Academy.
The feedback from the staff at the event was nothing short of amazing. The sports leaders left a lasting and positive impression, not only with their assistance but also with their exemplary behaviour and interactions. They were indeed a credit to their academy and their broader school community.
Congratulations to these dedicated Year 9 sports leaders for their exceptional performance and their commitment to being role models in our community. Your efforts and leadership skills are an inspiration to us all. Keep up the fantastic work, and continue to shine as exemplary leaders in the years to come!