Remembrance Day 2023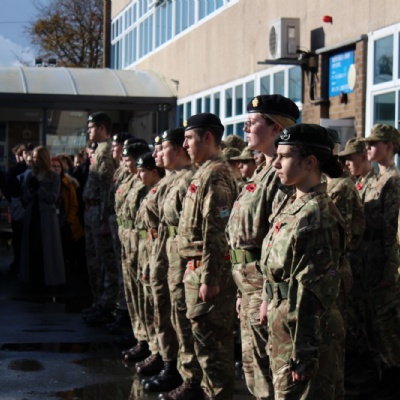 On this solemn occasion of Remembrance Day, our school community have come together to commemorate and express gratitude to those who served in World War II.
The collective effort of both staff and students resulted in a moving and respectful tribute that reflected the significance of this historical event.
The preparations for Remembrance Day were nothing short of tremendous, with students dedicating their time and energy to raise awareness and pay tribute to the heroes of World War II. The culmination of these efforts unfolded in a series of events that made this Remembrance Day truly special.
At 10.55 am, a poignant moment unfolded as all lessons concluded to make way for a special Remembrance poem. Crafted by our talented Poet Laureate, Marie, the poem was read out to both students and staff, creating a shared experience that resonated throughout the school. At the stroke of 11am, a profound hush descended upon the school as students observed a solemn 2-minute silence. Meanwhile, evocative Remembrance presentations graced the screens in classrooms, fostering reflection and remembrance.
A particularly moving aspect of the day was the joint effort of students affiliated with the Combined Cadet Force (CCF), RAF, Scouts, Army Cadets, and Sea Cadets. Clad in their respective uniforms, they formed a beautiful remembrance parade, joined by selected students who demonstrated exceptional commitment. The parade, attended by Sixth Form students and staff, provided a poignant and respectful demonstration of gratitude and remembrance, witnessed by fellow students.
The school's art department played a crucial role in adding a visual dimension to the remembrance activities. A stunning installation in the Street, featuring poppies made from bottle tops and umbrellas, served as a powerful symbol of remembrance. Both students and staff actively participated in the creation of this beautiful display, reinforcing the collaborative spirit of the school community.
Throughout the week, an information board in the Street provided educational resources, enriching students' understanding of Remembrance Day. This initiative aimed to foster awareness and appreciation for the historical significance of the day, contributing to a broader understanding of the sacrifices made by those who served in World War II.
This Remembrance Day celebration was more than an event; it was a profound opportunity for our students to engage with and witness a pivotal part of history. The efforts and commitment of staff and students alike have created a lasting tribute to the heroes of World War I, instilling a sense of gratitude and remembrance in the hearts of our school community. As we reflect on the significance of this day, we are reminded of the sacrifices made and the importance of honoring those who dedicated their lives to secure our freedom.