Molly is named our new Poet Laureate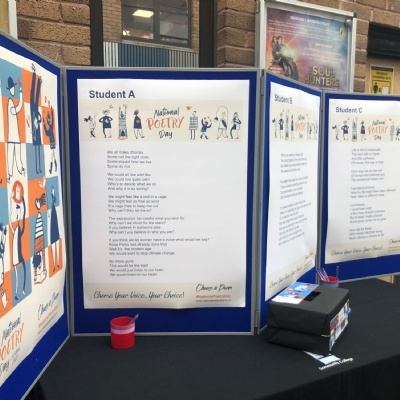 Congratulations to our new College Poet Laureate, Molly - as chosen by our students!
Year 9 student, Molly, was one of three young poets to have their poems shortlisted and shown on The Street on National Poetry Day in a school National Poetry Day competition. Students had the opportunity to read the poems and vote for the poem that they felt best represented them - and Molly's poem received the most votes. She will now be our Poet Laureate for the coming year.
Students from all years were invited to take part and we were delighted with the number who submitted their poems.
The Poet Laureate was announced by Miss Frier, in a film that was shown to the whole College.
Miss Ekpoffiong, Literacy Coordinator, said: "The National Poetry Day theme was 'Choice', and it was fantastic that there was such a diverse range of poems from the students. The thought, effort and time that was dedicated to creating each one, shows how the students enjoy being creative and expressing themselves.
"It was wonderful how most of the poems gave messages of positivity and hope whilst encouraging people to be proud of themselves. Thank you to all the students who took part - we were very impressed with the poems.
"And well done to Molly for being chosen as our Poet Laureate for Stoke Damerel Community College."
Mrs Henderson, Head of English, said: ''We look forward to calling upon our very own Poet Laureate to mark events of significance in the life of the college.''