Meet our three divers who are following in Tom Daley's footsteps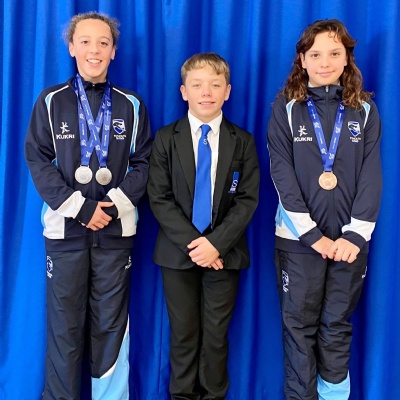 Three of our Year 9 students are attending the Team GB Olympic Pathway course in diving, after being cited for having Olympic prospects.
Amelie , Scarlett and Theo train as part of the Team GB set up at Plymouth Life Centre. They have had their coaching hours extended with the Team GB coaches because of their potential.
The College is delighted to help Amelie, Scarlett and Theo to realise their dreams. The young divers are currently training each Thursday morning (7am-9am) and Friday (11am-1pm), on top of their 20+ hours a week outside of school time. We are supporting them to ensure they keep up to date with their schoolwork during this exciting time.
Theo, Scarlett and Amelie are relishing this amazing opportunity. Theo said: "I really enjoy diving and it is in my dream to make it my career. During the time I miss school, I have been trying to perfect my new dives. School has helped me out on my homework that I have missed, and I am up to date with my schoolwork. Thank you to Mr Harris and all my teachers for helping me out."
Amelie also wants to pursue a career as a diver and is using the additional coaching hours to learn new dives. She said: "Because the school helps me on the work that I miss, it means I am not falling behind."
Scarlett added: "Diving has been going really well and the school has helped me a lot. Thank you to Mr Harris, Mr Collick and SDCC for supporting us with our diving."
And it is all paying off - Amelie won two silver medals at the British Elite Nationals held during half term on 27-30 October, only losing out on gold by 0.6 points. And Scarlett won a bronze medal.
Amelie achieved her double silver success with the new dives which she has been practicing whilst being allowed out of school for extra hours. She was so thankful for this arrangement and her parents also thanked the school for the support.
Mr Harris said: "Scarlett, Theo and Amelie show fantastic maturity in signing themselves out, organising their time effectively to get to training and get back on time, as well as sorting their own lunch. In addition, they are keeping on top of homework and the work they are missing whilst being at training.
"As a school we are very proud of our students' successes both inside and out of the classroom and will always strive to support them in any way possible."
Our divers are, of course, following in the footsteps of Plymouth's very own Olympic champion Tom Daley, who won Gold at this year's Games in Tokyo. Tom also trained at the Plymouth Life Centre - a real inspiration for Amelie, Scarlett and Theo.