Students inspired by barrister visit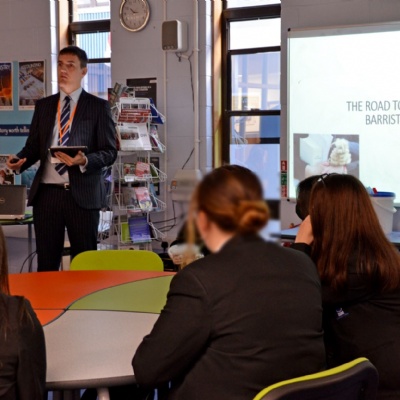 A group of our Year 11, 12 and 13 students got an insight into working in the legal profession, with a visit to the College by barrister James Lewis-Bale of Magdalen Chambers in Exeter.
Mr Lewis-Bale presented a talk followed by a question-and-answer session to 15 students, some of whom have expressed an interest in pursuing law as a career. He outlined the type of skills needed to be a barrister and the career pathways that are available. He also explained the role of the barrister within the wider judicial system and described a typical day in the life of a barrister.
The visit was part of an initiative by the Bar None group, which was formed by the Western Circuit to encourage the strongest possible applications to the Bar from under-represented groups. Traditionally, students from state schools have been among those who are under-represented in the barrister profession. The role has also been dominated by graduates from Oxbridge and the Russell Group of universities, although this is now changing.
Mr Lewis-Bale is a member of the Civil team at Magdalen Chambers and specialises in the fields of Employment Law and Discrimination Law. He attended Holsworthy Community College in north Devon and then went to Plymouth University, so is a real inspiration to our students who are hoping to follow in his footsteps by progressing to The Bar. He told them: "At our Chambers, we don't care what school or university you have been to as long as you've got the qualifications."
The students learnt that the most common career pathway to becoming a barrister was to get a law degree followed by postgraduate training at Bar School, and then to join a Chambers for pupillage - which is a one-year apprenticeship. Students who choose to take a degree other than law can follow an alternative pathway by then taking a Graduate Diploma in Law before applying to attend Bar School and then pupillage.
Mr Lewis-Bale outlined to the students the five key skills that they will need to be a barrister: confidence, communication skills, analytical skills, persuasion, and the ability to work well under pressure.
"Confidence is the main one, because being a barrister is all about confidence," he said. "You are having to speak publicly, you are doing witness cross examinations, and you also have to be confident when you do your summing up speeches, because if you don't come across as confident, your client could end up going to jail. When I was at secondary school, I was quiet and conscientious, I didn't like to stand up and talk in front of people, so confidence is something that you can develop.
"Likewise, good communication skills are needed for talking with your clients, who will be members of the public from all backgrounds. When you are speaking with your client, you need to be able to draw out their story. And of course, you will need communication skills in dealing with your colleagues and with judges.
"Analytical skills are very important in analysing cases, putting the case together, presenting the case, and winning the case. And that's where the art of persuasion comes in because you need to persuade people of your case in order to win. Working under pressure is needed because workloads are high. You work long and unsociable hours, and you will be working on a lot of cases at the same time.
"You might not have considered these five skills until now, but you will need them, and you can work on building them now."
But he stressed that being a barrister is not all about work, work, work: "Chambers is a brilliant place to work. People are very supportive, you have a strong team, and you make great friends. There are opportunities for an excellent social life, and you are encouraged and supported in having a rounded life with interests outside of work."
After his talk, Mr Lewis-Bale generously offered more of his time by speaking to two of our Year 13 students, Soso and Zoe, who plan to study law at university when they move on next summer. Soso said: "The talk has expanded our knowledge of life in Chambers, and I'm really excited about the prospect." Zoe added: "We know that the hours of a barrister are long but that doesn't put us off. In fact, today's talk has really inspired us."
The visit was organised by our Careers and Employability Manager, Miss Trezona. She said: "We are very grateful to James for his brilliant talk, and I know that his own particular story resonated with our students. It will give them the confidence to consider law as a career and that it is something they can achieve if they work hard."