Celebrating our alumni success stories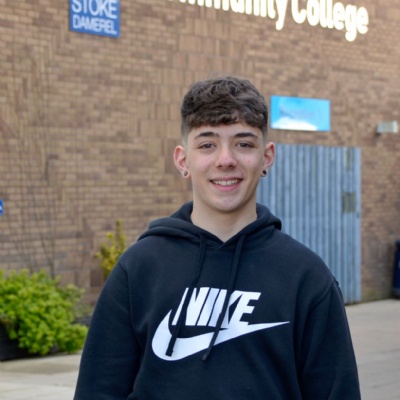 Charlie Cooper, Year of '21
Stoke Damerel Community College is delighted to celebrate the achievements of our past students who have progressed in their further and higher education. We are extremely proud, too, to share the success stories of our alumni as they secure coveted training, apprenticeships, and careers in highly competitive and rewarding sectors.
This is Charlie Cooper's story …
Charlie left our Year 11s in the Spring of 2021, inspired by the encouragement and support of our teaching staff to pursue his dream of forging a career in engineering. Within a few months, he had earned a four-year apprenticeship with international engineering and tech company, the Barden Corporation, whose global presence includes a site here in Plymouth.
Charlie works as a full-time apprentice, learning all aspects of being a mechanical fitter, which involves manufacturing, maintaining, and installing high level mechanical technology for industries such as aerospace, defence, and medical.
He was offered the role after going through a tough application process: "I always wanted to have a mechanical career, as I have family members who are engineers," said Charlie. "My mind was fixed that I wanted to follow in their footsteps.
"I took the help that the teachers at Stoke Damerel offered me, particularly Mr Gill and Miss Lewis. I wasn't always an ideal student, but they never gave up on me. It shows that you can get your dream job, and you can succeed, even if you haven't had a good start to your school life."
Charlie now has ambitions of working for the Barden Corporation overseas, once he completes his apprenticeship and is a fully qualified mechanical fitter: "The apprenticeship is going amazingly well. I love what I'm doing, I'm learning all the time, and I am ahead of my work. My focus for the future is to work for the company at their Australia branch, I'd love that, and to buy a house."
And Charlie has some great advice for our current students: "Know what your dreams are and follow them. Don't let other people put you off or discourage you. I had my mind set, I was very single-minded, and for me, that was like a superpower.
"Also, take the help that the teachers offer you. Listen to them when they offer that help. The teachers at this school encouraged me to pursue the career I wanted, they made me realise it was possible, no matter what. And now, I have the exact job that I wanted."
We are grateful to Charlie for visiting the College to update us on his progress. His story is an inspiration to students who aspire to achieve in the field they are passionate about, whether that is academic or in the workplace.