Student Welfare
Useful Information
This might be useful particularly if gaming has increased through lock down.
https://youngminds.org.uk/find-help/for-parents/parents-guide-to-support-a-z/parents-guide-to-support-gaming/
Recent information and resources that have been created for the support of students mental health and wellbeing around exam results.
Kooth Users Support
(Users will need to be logged into Kooth to view these) Professionals may also access them by using/creating a test account*
Students
If you are worried or concerned about yourself or others, please contact our Safeguarding Team via the email below, where we will try to answer any questions. This includes if you have any concerns about online bullying or behaviour.
The safeguarding team are:
Simon Kelly , Rachel Miller, Cheryl Dickinson, Siobhan Easterbrook and Alex Halambiec
Parents / Carers
If you are worried about your child during this period please contact the Safeguarding Team by using the safeguarding@sdcc.net
If you have a serious concern about a child or young person's wellbeing, you should contact the Plymouth Gateway Service; the child or young person may be someone in your own family, or friend's or a neighbour's child. Plymouth Gateway Service is made up of a team of professionals who can offer advice and support about a variety of issues, including how to keep children safe.
Plymouth Gateway Service can be contacted on 01752 668000
Select Option 1 – Children's Services.
Or email: gateway@plymouth.gov.uk.
You can also contact the NSPCC helpline on 0808 800 5000. If a child, young person or an adult is at immediate risk of harm, please contact 999.
Support and Advice by Locality
Plymouth:
The Gateway is a point of contact for advice and information about support for children and their families. They are able to suggest other agencies that might be of help and have advice about specific issues. Click here for more information about Plymouth Gateway.
Cornwall
The Early Help Hub, identifies the most appropriate Early Help service for a child or young person aged from pre-birth up to 18, or 25 where young people have special educational needs or a disability. Click here for more information on the Early Help Hub.
Devon
Early Help is the extra support your family can get if you need it. It may be that you want to prevent a problem, or change things for your family before the problem becomes more serious. Click here for the leaflet offers more information on Early Help.
PREVENT Duty
Prevent is a government strategy designed to stop people becoming terrorists or supporting terrorist or extremist causes. The Prevent Strategy covers all types of terrorism and extremism, including the extreme right wing, violent Islamist groups and other causes.
From July 2015 all schools (as well as other organisations) have a duty to safeguard children from radicalisation and extremism. This means we have a responsibility to protect children from extremist and violent views the same way we protect them from drugs or gang violence. Importantly, we can provide a safe place for students to discuss these issues so they better understand how to protect themselves.
OPERATION ENCOMPASS
As a school we are part of the Operation Encompass strategy, working with the police and other agencies when families are experiencing domestic abuse. Please see here for more details.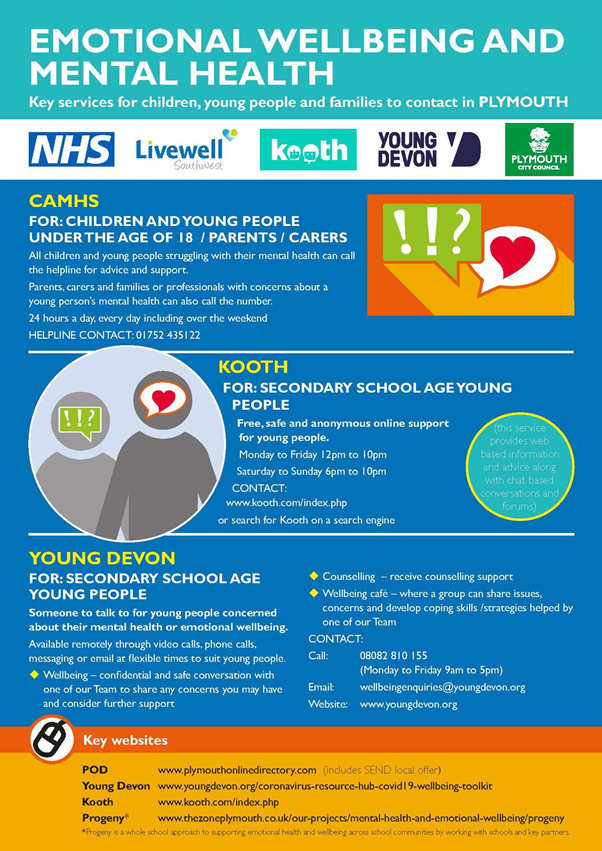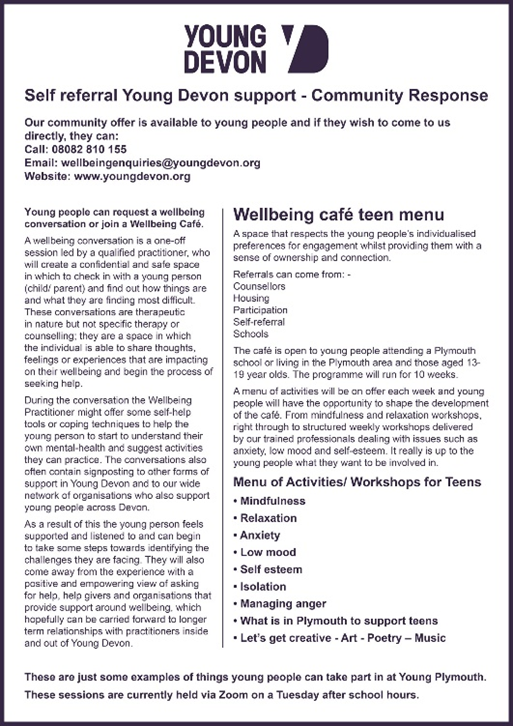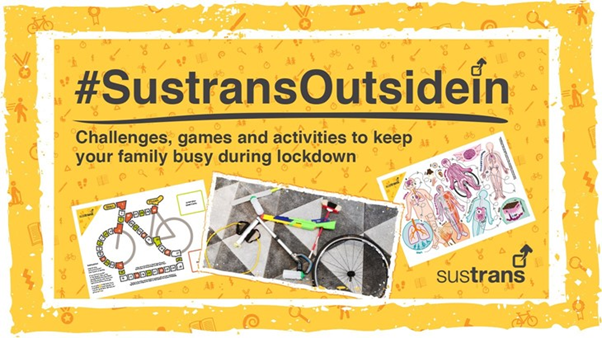 Stay active and have fun!
The College is supporting a free resource launched by Sustrans, which is offering families a range of content outlining different activities that children can enjoy at home during the COVID-19 outbreak.
Sustrans Outside In is a weekly newsletter sent to parents and carers over the course of four weeks. There are five activities themed for wellbeing, keeping active, being creative, investigating and 'anything goes', as well as a challenge to keep children active during the lockdown restrictions.
The programme has been designed by the registered charity's knowledgeable Schools Officers and includes videos, games, cycling, walking and scooting-themed fun.
Miss Le Page said: "I've signed up for this myself and the activities look great, especially for our younger students. It's completely free, so why not give it a go!"
Parents who would like to take part, can register at the Sustrans website using this link.
Useful Websites
NHS England
NHS Public Health
Government
Jeremiahs Journey
Foodbank
Feeling a little low and need some support?
Then click on links below…

CHILDLINE 0800 1111
A free and confidential helpline for children
and young people in the UK. Lines open 24
hours a day, 7 days a week.
---

CRUSE BEREAVEMENT CARE 0808 8081677
Grief is a natural process, but it can be
devastating. Cruse Bereavement Care is here
to support you after the death of someone
close. They offer a range of free confidential
support for children.
---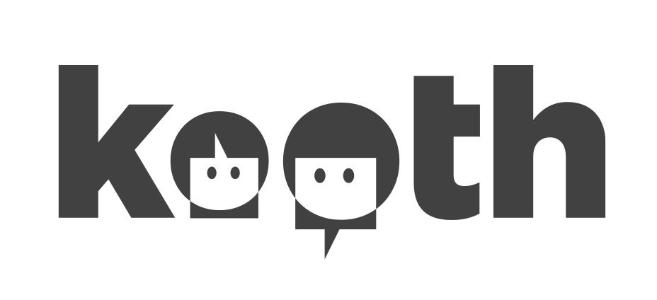 KOOTH
An anonymous, free online counselling and
emotional wellbeing service for children.

NSPCC 0808 8005000
Advice, guidance, help, support or to take
action on your behalf if you have concerns
about a child who is either being abused or at
risk of abuse.
---
---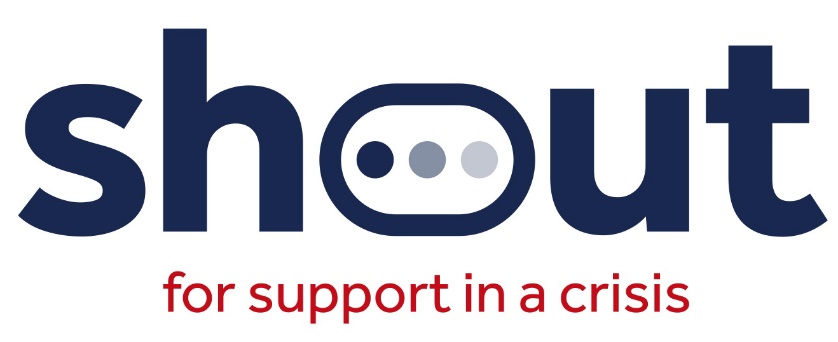 SHOUT
If you're experiencing a personal crisis, are
unable to cope and need support, text Shout
to 85258.
---


YOUNG MINDS 0808 8025544 (parents' helpline)
Committed to improving the emotional
wellbeing and mental health of children and
young people.


SAMARITANS 116123
Charity aimed at providing emotional support
to anyone in emotional distress, struggling to
cope, or at risk of suicide.
Email jo@samaritans.org or telephone (open
24 hours a day).
---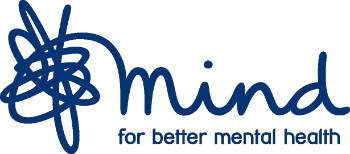 MIND 0300 1233393
Confidential help on a range of mental health
issues.
---

PARENT INFO
Help and advice for families in a digital world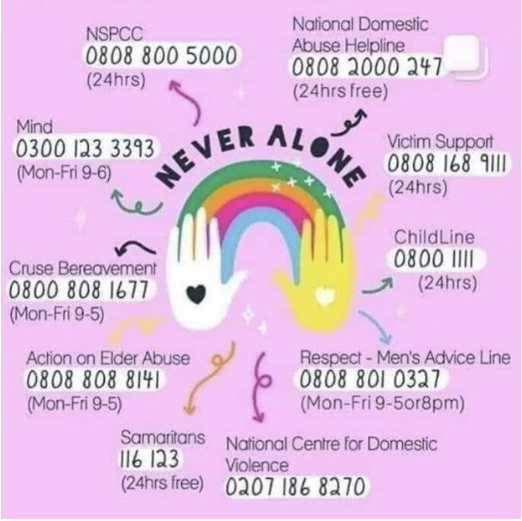 Is your child or the child you are caring for experiencing anxiety, worry or stress?
Are they experiencing psychological or emotional distress?
Do you need to talk to someone who can offer support and advice?
This service is open to Children, Young People, Parents, Carers and Professionals
The Urgent Mental Health Support Telephone line is open now 24 hours a day,
7 days a week on 01752 435122 for advice and support.

Kooth's 'Top Tips' was created for parents & carers to offer advice about how to start a conversation with young people about their feelings. Kooth can also provide letters that you can share to support parents and carers in knowing that you are offering Kooth to their child. Please contact your Kooth Engagement Lead to request these and other support resources.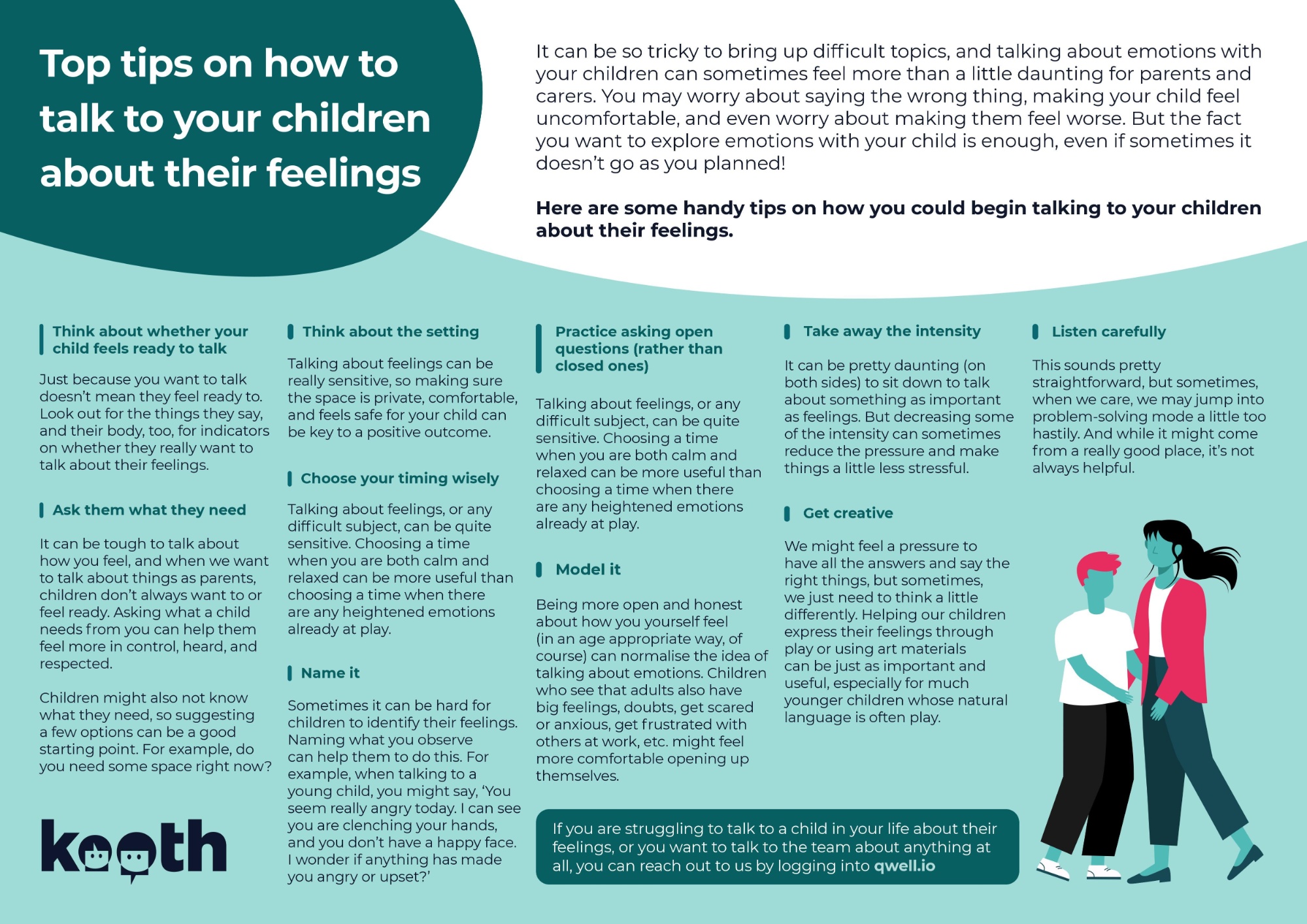 These helpful tips from Kooth's clinical team can help parents and carers start to talk to their young people about their feelings.

It can be so tricky to bring up difficult topics, and talking about emotions with your children can sometimes feel more than a little daunting for parents and carers. You may worry about saying the wrong thing, making your child feel uncomfortable, and even worry about making them feel worse. But the fact you want to explore emotions with your child is enough, even if sometimes it doesn't go as you planned!
If this feels familiar for you, you are definitely not alone!
If you want to read more about Kooth and the support we offer for your child or young person, you can download our Parent and Carer brochure here.